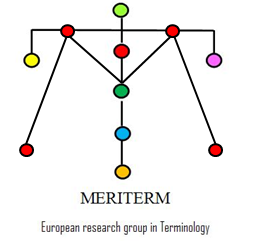 About
MERITERM is a consortium devoted to joined research activities on medical terminologies and classification systems.
MERITERM stands for Medical Enduser and Reference Interface Terminology.
The project aims to identify an extensive but well delineated core set of meanings of words and phrases, commonly used in medical communication in a number of key languages. In addition, it aims to build an interface terminology for human/machine and human/human interaction (medical specialists, general practitioners, allied health professionals, pharmacists and patients). This core set will be linked to large existing linguistic resources, as available in many languages, and to a broad array of international medical classifications.
It involved so far researchers from:
Approach
The principles of the approach are the following:
To work with ISO norm and W3C standards where ever possible.
To split the interface terminology in two intertwined resources:

a. The end-user terminology: A lexical resource in LMF (one per language) to capture words and phrases commonly used in medical communication and to manage their linguistic properties (part of speech), polysemy, synonyms, acronyms and variants. Implemented with the Lemon framework.
The reference terminology: A conceptual resource in TMF (multilingual) to define the concepts behind specific meanings of words and phrases, and to map these concepts to international (mostly English) classifications, nomenclatures and thesauri.

To limit the number of concepts in the reference terminology to a core set of less than 15.000 entries (for pragmatic reasons), yet providing core concepts for general practitioners, various medical specialists, allied health personnel, as well as for patients. Such an approach allows us to control the size and thus the maintainability of a reference terminology while promoting the independent existence of nomenclatures, terminologies, glossaries, specialized glossaries whose evolution will not be hampered by a resource which tries to include everything, at the risk of becoming unmanageable.
To map to SNOMED-CT and UMLS as reference nomenclatures, wherever possible.
To map in addition to all relevant classification systems such as International Classification of Primary Care (low granularity, reason for encounter-oriented) and International Classification of Diseases (high granularity, disease-oriented), to thesauri such as Medical Subject Headings (MeSH), and to other resources such as LOINC, ATC, NANDA, ICF, ...
To link the end-user terminology to existing natural language processing (NLP) resources or lexicons, such as WORDNET, where ever possible and to local nomenclatures.
To provide these resources as Linked Data on the Internet, under a Common Creative License. The technical decision to publish it as Linked Data provides the opportunity to link the reference terminology with other useful resources, and to let interested third parties link to the reference terminology.
The principles of this approach were developed as recommendations by the Heymans Institute of Pharmacology, University of Ghent, in a small, initiating project, commissioned by the Belgian Medical Informatics Association (MIM), on behalf of the Belgian Health Department.
The report was published as:
Roumier J, Vander Stichele R. Analysis of the application of the ISO 16642 norm Terminological Markup Framework (TMF) for the Belgian Reference Terminology. Report to the Belgian Medical Informatics Association, October 28, 2011.
Results
In addition to terminological and lexical models, the Meriterm project has carried out several small scale implementations of the approach. The following table summarizes them: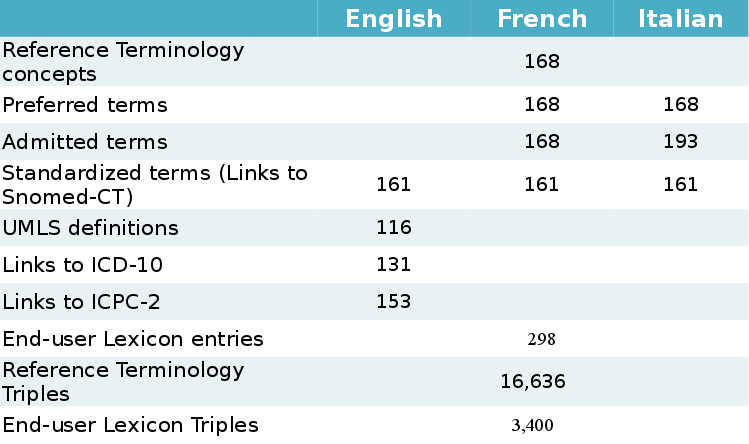 Resources
The terminology is published on the DataHub Meriterm repository
The lexicon is available here.
References
Publications
Roumier J, Vander Stichele RH, Romary L, Cardillo E. Approach to the Creation of a Multilingual, Medical Interface Terminology. Proceedings of the 9th International Conference on Terminology and Artificial Intelligence (TIA2011). Workshop 2 on "Ontology and Lexicons: new insights". November 15, 2011, Paris. Available from: https://hal.inria.fr/hal-00646223_v1/
Roumier J, Jamoulle M, Vander Stichele RH, Romary L, Cardillo E, Vander Stichele RH. Towards a terminologies support system in Primary Care [Letter to the editor]. Informatics in Primary Care. 2011;19:257–8.
Jamoulle M, Vander Stichele RH, Roumier J, Cardillo E. Analysing terms of a narrative family medicine guidelines using ICPC, ICD, SNOMED-CT and UMLS. WICC meeting 2012, Ravello, Italy [Internet]. 2012. (also presented at Patient Classification Systems International 2012 Avignon, France). Available from: http://www.ph3c.org/PH3C/docs/27/000267/0000390.pdf
Vander Stichele RH, Jamoulle M, Cardillo E, Roumier J, Romary L, van Nimwegen E, Warnier M. A combined onomasiological and semasiological approach to the development of a comprehensive interface terminology for information storage and retrieval in primary health care. Presented at Patient Classification Systems International, CISP Club 2012, Avignon, France. Available from: https://hal.inria.fr/hal-00769199
Warnier M, Roumier J, Jamoulle M, Vander Stichele RH, Romary L, Cardillo E. Publishing a Multilingual Medical Terminology According to Terminology Standards and Linked Data Principles. Monnet Challenge 2012. 2012.
Cardillo E, Warnier M, Roumier J, Jamoulle M, Vander Stichele RH. Using ISO and Semantic Web standards for creating a Multilingual Medical Interface Terminology: A use case for Heart Failure. To be published in Proceedings of the 10th International Conference on Terminology and Artificial Intelligence (TIA2013). October 28, 2013.
Jamoulle M, Vander Stichele RH, Cardillo E, Roumier J, Warnier M. Mapping French terms in a Belgian guideline on heart failure to international classifications and nomenclatures: the devil is in the detail. Inform Prim Care. 2014;4(189-198). doi